Mudpond Software
Welcome to Mudpond Software. Here at the Mudpond, you'll find software development tools and toys for Microsoft's Flight Simulator and Combat Flight Simulators, as well as a few complete virtual aircraft models.
AirWrench is a Windows-based flight dynamics analysis and development environment for Microsoft Flight Simulator, designed and developed by Mudpond Software, that allows flight simulator enthusiasts to create and tune flight model files without requiring extensive knowledge of computers, aerodynamics or mathematics.
AirWizEd is a new flight dynamics analysis and development environment with the same look and feel as AirWrench. It has the same flight model performance analysis capabilities as AirWrench, but replaces the automated AIR file generation logic of AirWrench with manual AIR file editing abilities. Each AIR file coefficient is identified by name and can be edited individually. All AIR file tables are displayed graphically, and any table entry can be edited by keyboard entry or by point-and-click. And finally, AirWizEd does require considerably more knowledge of aerodynamics than AirWrench.
AirWrench2 and AirWizEd are now available together in single release exclusively at Flight One Software.
Formation Flight Toys for FSX
Use this set of utility programs with Microsoft's Flight Simulator X to create up to four AI-controlled aircraft that fly in loose formations.
Click here to download the FSX Formation Flight Utility package.
Last update: 2 December 2008 - The current version does not require a manifest file and should run with any level FSX Service Pack.
Flight Test Gauge sets are available for CFS1, CFS2, FS2000, FS2002 and FS204. The gauges are capable of displaying more than 30 different engine and aircraft flight parameters and can record tab-delimited ascii data for post-flight analysis.

The Flight Dynamics Workbook is an Excel workbook designed to generate flight dynamics files based on the physical characteristics and actual performance of an aircraft.
PLEASE NOTE: This tool may be difficult to use and it is no longer being supported or updated.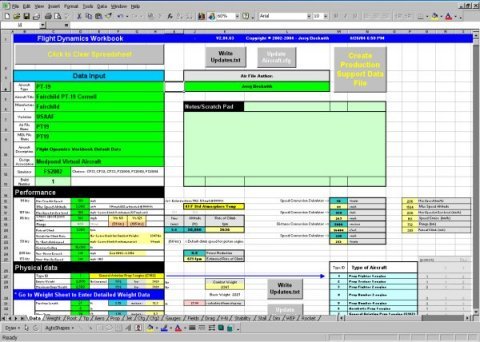 The AirUpdate air file editor is included with the Flight Dynamics Workbook. The following links are for downloading the editor alone.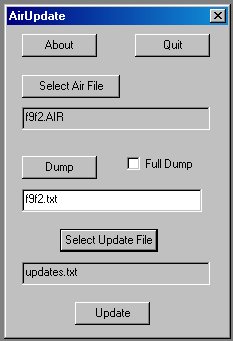 FS2002/FS2004 Aircraft Model Downloads
<![if !supportEmptyParas]>
<![endif]>
<![if !supportEmptyParas]>
<![endif]>
<![if !supportEmptyParas]> <![endif]> CFS2 Aircraft Model Downloads
<![if !supportEmptyParas]>
<![endif]>
<![if !supportEmptyParas]> <![endif]> CFS3 Flight Dynamics Downloads
Click here for the "Flight Dynamics Projects" Page
Miscellaneous Information. Click on the links below
How to Configure Landing Gear Contact Points
How the Jet Engine Tables Work
All materials on this website are Copyright (C) 2002-2010, GWBeckwith
<![if !supportEmptyParas]>
<![endif]>